How credit card security features can
help protect you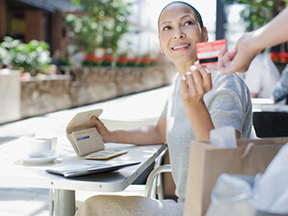 Understanding all the services your credit card provides
Your credit card is more than just a convenient way to pay for things. Many cards also provide users with a wide range of security and purchase protection services that could save you time, hassle and money.
Depending on the card, credit card security services may include fraud and identity theft protection, purchase protection, travel assistance and rental car insurance. Some services are complimentary, while others require additional fees. Check with your credit card issuer to see the type of protections you can use.
Here's an overview of common credit card security and protection features:
Credit card security
The law limits your liability for fraudulent credit card charges to just $50, and many credit card companies even waive that amount. For example, all Bank of America® consumer credit cards are covered by the Total Security Protection® package. This provides reimbursement for any fraudulent credit card transactions up to the amount of the loss and also provides free fraud monitoring and analysis.
Purchase protection
Credit cards do more than let you make purchases. They can also offer credit card security features and purchase protection options.
The federal Fair Credit Billing Act allows you to withhold payment on damaged or poor-quality goods or services purchased with a credit card, as long as you have attempted to solve the problem with the merchant and have contacted your card issuer within the legal time frames to dispute the purchase. Some cards also offer extended protection against loss, theft or damage, providing repairs, reimbursement and/or replacement of the item purchased with your cardFootnote1. Check with your card issuer for the benefits offered with your current card.
Travel assistance and rental car insurance
Additional card benefits may include a variety of services for travelers, including flight insurance, baggage protection and roadside assistanceFootnote1. Many major credit card companies also offer emergency assistance to travelers, typically through a hotline open 24 hours a day, 7 days a weekFootnote1.
Your credit card issuer may also offer a rental car loss and damage insurance plan if your car rental is paid for with the card. Even if you don't have auto insurance, your current credit card may cover the deductible. It's a good idea to check with your credit card company to find out the rental car coverage terms and conditions of this benefit prior to renting a vehicleFootnote1
In short, there are a variety of credit card security features available. So the next time you shop for a new card, take into consideration the many credit card security services and purchase protection services that may be offered.
Learn more about credit and debit card security from Bank of America.