Before initiating a claim, consider calling the merchant first, as they may resolve your claim faster (we may also require information from the merchant to process a claim, so contacting them directly may save you time). Additionally, please note that only posted transactions can be disputed (pending charges are temporary and may change), so if you have any immediate concerns about a pending charge, you may want to contact the merchant. You can typically find the merchant's contact information on your receipt or billing statement.
Online Banking customers can submit most credit card disputes directly from the transaction detail found in the Activity tab on your credit card account page, or from the Dispute a transaction link on the Information & Services tab.
To access the credit card dispute process, log in to Online Banking.
Not an Online Banking customer? Enroll in Online Banking today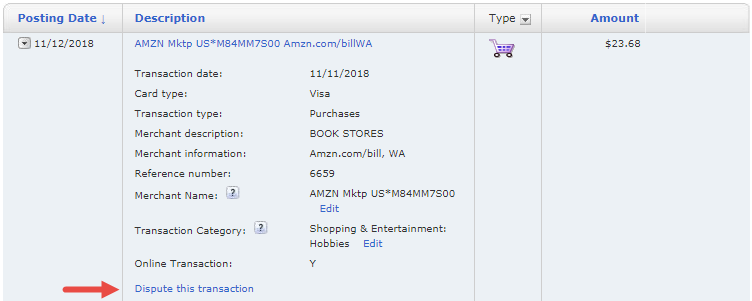 Timely notification is important. Most transactions must be disputed within 60 days of the date of your statement on which the error appeared. If you did not provide your account information to the merchant in question and suspect that your information was stolen, please contact us immediately.
While our online dispute process is the easiest and fastest way for you to submit a claim, you may also write or call us. Please visit our credit card customer service page for additional information.