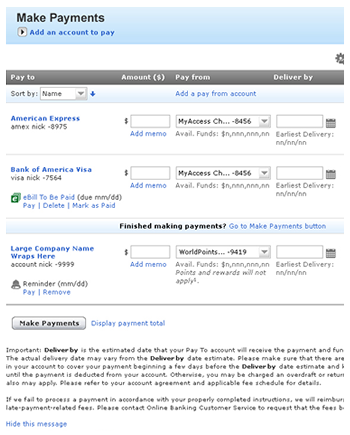 Pay your monthly bills from one place online
No more balancing a checkbook or stashing a paper file. Set up Pay To accounts once and schedule recurring or one-time bill payments from your checking or money market accounts or from your Home Equity Line of Credit.Footnote 1 Many bills can be paid electronically as soon as the next business day (utilities, cable, phone)Footnote 2.
For a third layer of security get SafePass, a 6-digit, one-time use code for Online Bill Pay and transfers. The code is sent as a text message to your registered mobile device or generated from a wallet-sized card.
Transfer money online, quickly and securely

Footnote

3
Need to make a quick payment? Sign in to Online Banking, select the Transfers tab and move funds between your accounts for credit card, line of credit, installment loan, mortgage or Merrill Lynch investments.Footnote 4 Paying back a friend or family member is just as easy. Transfer money from your Bank of America accounts to their accounts at any other financial institution by using a mobile number or email addressFootnote 5.
You can also schedule transfers: weekly, biweekly, monthly, by first or last business day, every 6 months or annually.