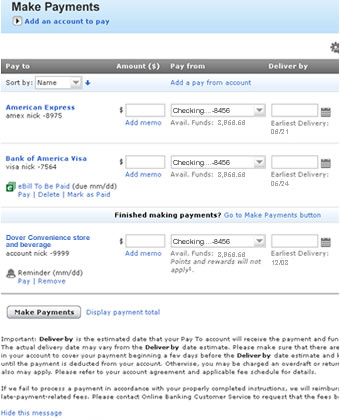 Pay your monthly bills from one place online
No more balancing a checkbook or stashing a paper file. Set up Pay To accounts once and schedule recurring or one-time bill payments from your checking or money market accounts or from your Home Equity Line of Credit (HELOC).Footnote 1 Many bills can be paid electronically as soon as the next business day (utilities, cable, phone)Footnote 2 with Online Bill Pay.
Transfer money online, quickly and securely

Footnote

3
Need to make a quick payment? Sign in to Online Banking, select the Transfers tab and move funds between your credit card, home equity line of creditFootnote 4, installment loan, mortgage or Merrill Lynch investmentFootnote 5 accounts.
To help you save, you can also set up automatic transfers (weekly, biweekly, monthly and more) from your checking to your savings. It's a convenient way to increase your savings account balance.
Paying back a friend or family member is just as easy, too: Transfer money from your Bank of America account to their account at another financial institution by using a mobile number or email address.Footnote 6