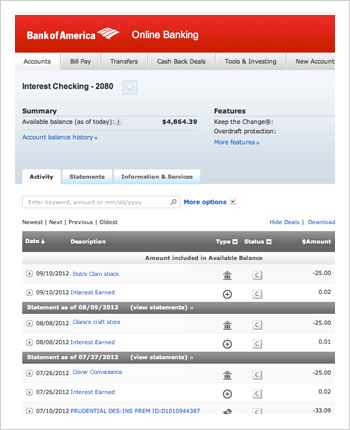 Check your account balance and pending transactions
Find out if your direct deposit or payments have cleared without waiting for a monthly statement in the mail. Quickly confirm your credit card balance before you make a purchase or payment. Your current and past account activities are available when you need them.
With Online Banking you can:
Check balances for your Bank of America® checking, savings, credit card, home equity loan or line of credit and mortgage
Track your recent transactions, including ATM visits, debit card purchases and direct deposits
Choose paperless statements to get your statements sooner and review your statements online

Set and get alerts to track your bank account activity
At home or at work, even out with friends, an email or text alertfootnote2 notifies you of important checking and saving account, so you don't have to sign in or go online. Finding out you have a low balance or your credit card payment is due can help you avoid late fees and overdraft fees.
Keep track of your bank account activity with alerts like these:
Low balance
Available balance
Payment due
Credit card balance nearing its limit
Unusual activity
Alerts also let you automatically track your mortgage and home equity accounts, credit card transactions and bills.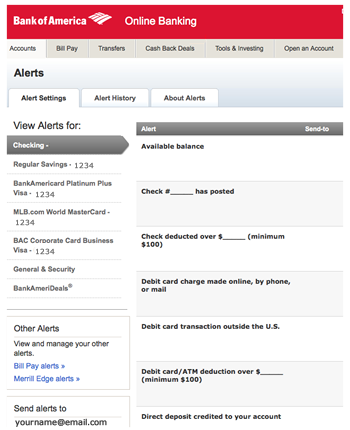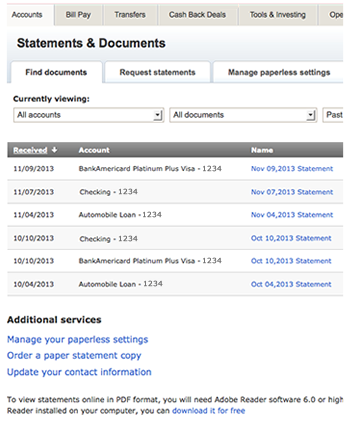 Go paperless with your accounts
Your online account statements, notifications and other documents are organized in one place that's easy to track and searchFootnote 3. At tax time or whenever you need them, your online statements are available.
Receive online statements and enjoy these benefits:
Efficient record keeping: Online statements are stored for 7 years and available when you need them
24/7 access to your documents anytime: Receive monthly email notifications when your new paperless statement is posted
Improved security: Help reduce the risk of mail fraud and identity theft
Alerts: Set up alerts so you know when your statements are available

footnote

2
To get paperless statements, first sign in to Online Banking, select the Accounts tab, then select Statements & Documents.
You can find tools to manage your security in your Security Center in Online and Mobile Banking.
Get cash back deals with BankAmeriDeals®

Footnote

4
Shop at the stores you like, eat at the restaurants you like and get cash back for it. First choose the BankAmeriDeals® you want, pay with your debit or credit card as usual, and the cash back you earn goes into your account. Earn cash back in addition to other rewards you may already get. Learn more about cash back deals, free to our Online Banking customers.