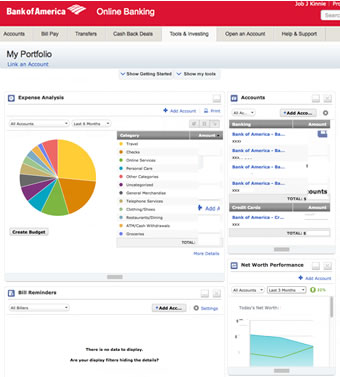 Track all your accounts with My Portfolio® financial planning tool
Know your net worth, stick to your budget, see how much you're spending on gas, groceries or coffee drinks—all at a glance. Use our all-accounts money-management dashboard to track activity in all your accounts, at Bank of America and elsewhere. No downloading is necessary. View a graph or chart of your spending and savings and see where your money is going.
Combine Online Banking with your Quicken® money management software
See all your finances, at Bank of America and elsewhere, on one page. From your eligible checking, savings and credit card accounts, you can track your activity, transfer fundsFootnote 2, make payments or download account balances and transaction. Use Quicken® Bill Pay with your eligible accounts and your online payments are automatically reflected in Online Banking.
Choose Online Banking from Quicken through Quicken Direct Connect or Web Connect. Online Banking through Quicken Direct Connect online personal financial software is free for the first 3 months, then $9.95 a month. For business customers, it's $15 a month.