Save with automatic payments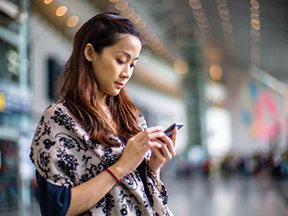 See how you can use automatic payments and alerts to your advantage.
Missing a payment can happen to the best of us, but missed payments can mean late fees and interest charges. They can also negatively affect your credit score, which can mean higher loan rates or insurance premiums. Fortunately, a simple service like automatic payments can help you stay on schedule and avoid missing a payment.
The benefits of automatic payments
Automatic payment options allow you to send payments on a specific day every month. You simply set the amount you want paid and the date you want the money sent. Automatic payments can be a helpful tool for bills that remain constant each month like a mortgage payment, car loan or student loan. You can usually find this option in your bank's online bill pay section of their website. Bank of America customers can access this service by signing into Online Banking and selecting Bill Pay from the navigation menu.
More ways to stay on top of your bills
Online bill pay: Paying bills online lets you streamline and simplify the bill payment process. Online bill pay enables you to pay almost any business or individual that you currently pay by check: your phone company, mortgage provider, insurance company—even your dentist or day care center. Just a few clicks of your mouse will get your bills paid.
Alerts: Another great automation tool is to set up email or text-message alerts for a variety of your banking needs, from eBill notification to a reminder that automatic bill payments have been processed. You can also set up your own alerts to remind you when other bills are due. Check with your bank to see what type of alerts they offer.
eBills: Stop snail-mail delivery of bills and instead have them delivered electronically straight to your online banking service. You can also receive an email notification when an eBill arrives.
Using automatic payments and alerts is a simple way to help eliminate the stress of missing payment deadlines, mounting late fees and interest charges and even negative credit-score marks.
Return to Online Banking Learning Center.