Access your account online and with your smartphone
As a student, you probably do almost everything online or via your mobile phone. That can include most banking services, too.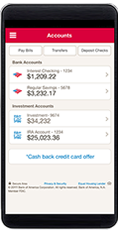 Mobile and Online Banking allow you to do many things you can do at a typical bank location, but with more convenience. For example, you can:
Access your statements, canceled checks and transaction records anytime
Deposit checks to your account by using the camera feature on your mobile device in conjunction with a Mobile Banking app
Check your account information when you want, as often as you want
More easily identify errors and possible unauthorized use of your account
Many banks offer additional online and mobile tools and services such as:
Account transfers
The ability to view copies of canceled checks
Financial planning tutorials
The ability to view your credit card statement and pay your monthly bill online (if you have a credit card with that bank)
One online and mobile banking feature that many people take advantage of is online bill pay. This lets you schedule automatic payments to pay certain bills. If the company receiving your payment isn't set up to take online payments, your bank will often send them a check on your behalf.
If you think that mobile and online banking will be useful to you, consider these questions as you shop around and choose your bank:
Will you be able access your accounts from home using your laptop or mobile phone?
Is there a charge for online or mobile banking?
Does the bank you are considering offer you the opportunity to chat with a banking specialist online? Online chat is a fast and easy way to get your questions answered. It will also come in handy once you are a customer and have questions about your account.