Talk about money with your student
As a parent, you want to understand and manage your student's personal financial situation. Here are some tips and tools that can help you do that.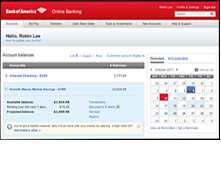 Review transactions together
As your student sets up a checking or savings account at Bank of America, Online Banking becomes an important tool for him or her to review account activity. It can also be a facilitator of financial conversations: Sit with your student, review transactions together and discuss ways to be smarter and more efficient with money.
Transfer funds with ease
You can use Online Banking to transfer funds from any computerfootnote1. With our email and mobile transfer service, Mobile and Online Banking users can securely send or receive money with friends, family members and coworkers using only an email address or a mobile number—no more checks, IOUs or sharing account numbers.
Set up Alerts in Mobile and Online Banking
If your student has a checking or saving account at Bank of America, he or she can use Online Banking to set up Alerts to your email address or mobile phone.footnote2 Alerts can be set up in a variety of ways. For example, you could receive an Alert when your student's checking account falls below a certain balance, which would let you know that it's time to transfer funds.
Co-sign for a credit card
Under the CARD Act of 2009, anyone under the age of 21 who wants to apply for a credit card must either provide proof of income to repay credit card debt or have a co-applicant sign the application. As a co-applicant, you're financially responsible for paying the account when the primary applicant is unable to do so. As such, it's important that you discuss with your student the importance of making responsible purchases and paying the account on time. Bank of America has online tools such as Alerts for balances and payment due dates, so be sure to use these services to help your student stay on top of finances.
Discuss financial issues
Talking about money can be uncomfortable, but having conversations about budgeting and spending can only serve to clarify financial expectations for both you and your student.