Do you need multiple credit cards?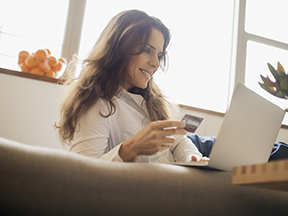 The advantages and disadvantages of having multiple credit cards
These days, it's not uncommon for people to have multiple credit cards. A study by Experian found 46% of the U.S. population has two credit cards or moreFootnote1. But is it good to have multiple credit cards? Here are some advantages to having more than one card, as well as important things to keep in mind before applying for multiple cards.
The advantages of having multiple credit cards
Having multiple credit cards has its advantages, but you want to make sure you get those cards for the right reasons and don't fall into bad habits.
You can have a separate credit card just for online shopping. This can help you keep track of your spending and let you keep an eye out for identity theft or fraud.
If a credit card is lost or stolen, it helps to have a second card available if it takes more than a day to get a replacement card.
You might be able to save money on interest fees by transferring credit card balances to a new card that has a lower APR or promotional rate. Get more information about balance transfers with our balance transfer tips.
When traveling abroad, a second credit card can be your backup if your primary card isn't accepted in a particular country. Look for a card that offers smart chip technology which provides greater acceptance and added security when making purchases outside of the U.S.
You can choose which card to use, depending on the different rewards they offer. For example, you might use one card to earn cash back or points you can use for travel purchases while another card could be a good option if it offers better product warranties or purchase protection.
Things to watch for if you have multiple credit cards
Having more cards means you have to work harder to manage them. Missing due dates or paying the wrong amount to the wrong card can result in costly late fees. Multiple missed payments can lead to increased interest rates and hurt your credit score.
It's easier to run up debt when you're using multiple cards. Make sure you use your cards the way you planned to. If you have a new low-APR card as a way to consolidate debt at a lower interest rate, don't use the extra credit and get deeper in debt.
If you start applying for many cards in a short period of time, it can negatively impact your credit report. Instead, do some research first before applying for another card to add to your wallet. And then apply for the card that best meets your needs.
Multiple credit cards and your credit report
Simply having multiple credit cards won't necessarily harm your credit score. Your credit report will actually benefit from having established credit cards that are being actively used at least every few months. To help protect your credit score, make sure you're paying on-time and avoid using more than 50% of your available credit.
To help stay on schedule and keep track of multiple due dates, you can set up automatic payment reminders. Some credit card issuers allow you to request an email or text message with your balance, recent transactions and a friendly reminder of your due date. Take advantage of these types of services to stay on top of your payments.
Sometimes people consider applying for a new credit card as a solution to other financial problems, but that often leads to even more unmanageable debt. However, if you can pay off your balance every month, you may appreciate the benefits of having multiple credit cards.